2011 Iditarod race winner, coming soon
March 15, 2011
2011 Iditarod race news, March 14, 2011, evening: By this time tomorrow we should have a 2011 Iditarod Race Winner. Current Iditarod race leader John Baker is now in to the White Mountain race checkpoint, where all mushers are required to take an eight hour break (rest) before taking off on the final leg to Nome, Alaska.
A two man race
From several Twitter reports I've seen that Mr. Baker is still in the lead, but Iditarod musher Ramey Smyth is in a close second place, possibly only four miles behind Mr. Baker. As they are both experienced mushers, and Mr. Smyth has been recording faster times lately, this looks to be an extremely close finish to the 2011 Iditarod race.
Update: Ramey Smyth pulled into the White Mountain checkpoint 51 minutes after John Baker. The two mushers are expected to leave the checkpoint after midnight tonight. Mr. Baker can leave the checkpoint at 12:03am, and Mr. Smyth can leave at 12:54 am. (Both of these times are in the very early morning of March 15, 2011.)
At their current speeds, either winner is expected to record the fastest Iditarod race time in history. I haven't been in Alaska for previous Iditarod races, but the weather here has been as pleasant as you can possibly expect for March in Alaska, so I'm sure that has contributed to excellent Iditarod trail conditions.
Here's a look at the current 2011 Iditarod race leaderboard, couresy of the Official Iditarod.com website: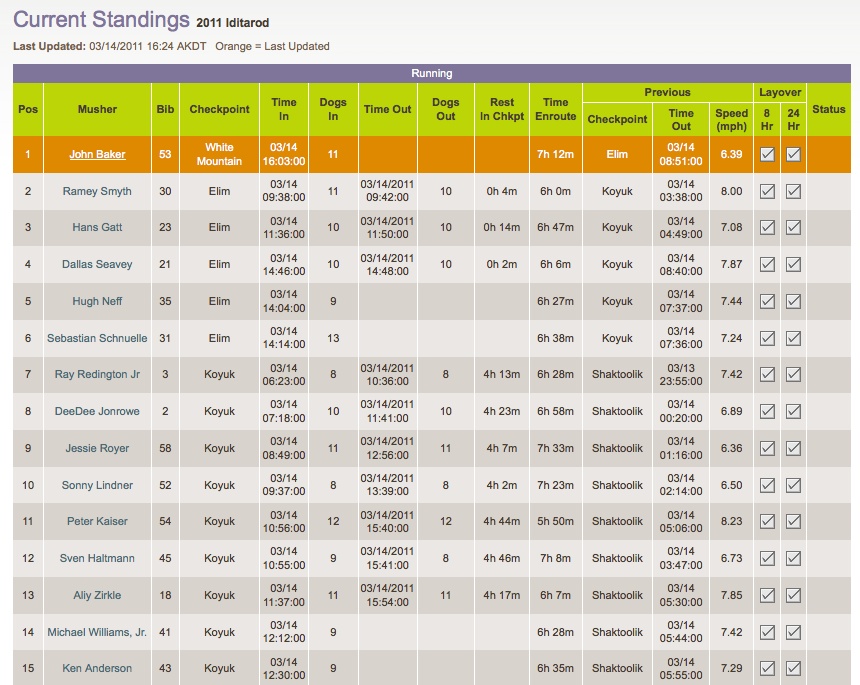 My personal favorite Iditarod musher, young Dallas Seavey, has moved up to fourth place with a big burst of late. But I believe he is still several hours behind third place musher Hans Gatt, who is about two hours behind Ramey Smyth.
Seventy-seven miles to Nome, Alaska
After the mandatory eight-hour rest in White Mountain, the Iditarod race ends with a 77-mile run to Nome, Alaska, with a checkpoint in Safety. As mentioned, with that distance, we are expected to have a 2011 Iditarod winner by this time tomorrow.