2011 Iditarod, Current Standings, March 11, Evening
March 12, 2011
2011 Iditarod race, current standings: It's the evening of March 11, 2011, about 7pm, and the Iditarod mushers continue to blaze their trails across the Alaskan wilderness.
As mentioned this morning, musher Hugh Neff appears to be in the lead, having come through the Grayling checkpoint just five minutes before John Baker, and 47 minutes before four-time defending champion Lance Mackey.
Here are the current standings of the top fifteen 2011 Iditarod mushers at this time: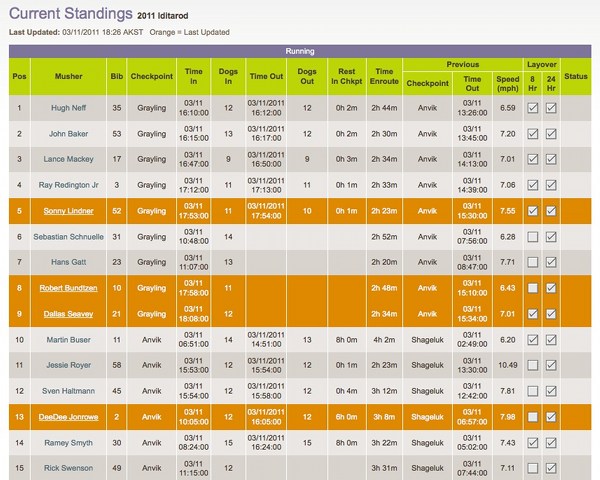 (Click that image for a larger view. Image courtesy of the iditarod.com website.)
As you can see, the first nine mushers have made it through the Grayling checkpoint, while the other mushers haven't made it to that checkpoint yet.
Next Iditarod checkpoints
As you can see on my Iditarod checkpoints and distances page, the distance to the next checkpoint (Eagle Island) is sixty miles, while the distance from Anvik to Grayling was only eighteen miles.
Other checkpoint distances include 70 miles from Eagle Island to Kaltag, 90 miles from Kaltag to Unalakleet, and then 40 miles from Unalakleet to Shaktoolik.
2011 Iditarod current standings
As usual I'll try to update my list of 2011 Iditarod current standings at least once or twice a day. I hope it will be fun and interesting to look at the twists and turns of the race after the race is over. Of course for the most up to date 2011 Iditarod race information, please see the official iditarod.com website.