Alaska lunar eclipse photos
December 21, 2010
Unfortunately I don't have a good zoom lens for my Pentax K-x camera, so I wasn't able to get any great Alaska lunar eclipse photos last night. But, I did manage to eek out this small photo, and if you click on it, you'll see a much larger (4.4 MB) photo of the very clear Wasilla, Alaska sky last night: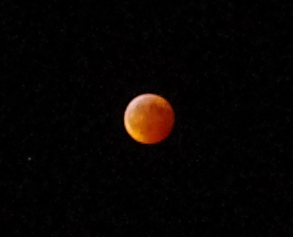 (Click on that image for the large 4.4 MB image.)
As you can see from the larger Alaska lunar eclipse photo, the sky ended up becoming crystal clear as the moon turned to its orange-red color. What a really wonderful view of the lunar eclipse, and a wonderful night.