Winterizing the car (Living in Alaska)
October 14, 2010
Alaska car winterizing: With the temperatures in Alaska now dipping into the 20s, I walked over to the local car shop yesterday and scheduled an appointment for tomorrow to have them put my winter tires back on the car. I'm told that if you wait until after the first snowfall to put your winter tires on, you'll run into insanely long lines, so I thought I'd just get this over with. I wanted to wait until November, but I don't really drive too much right now, so doing this now is probably just an extra 200 miles on the winter tires.
Here's what the current weather forecast looks like, courtesy of wunderground.com:

(Later) Okay, the winter tires are now officially loaded in the car and ready to be put back on: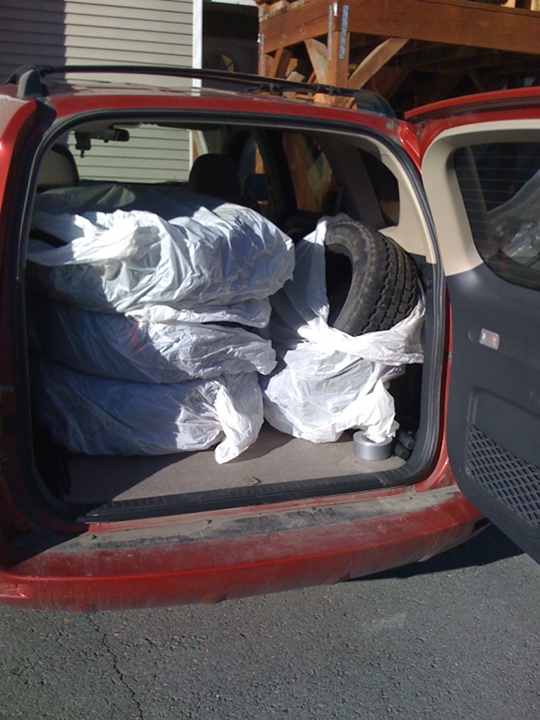 It feels funny to be driving car tires around, but I remember my dad doing something like this when we were growing up in the Lower 48. I guess at some point winter tires became less popular, but in Alaska and Canada they are a life saver.
More Alaska car winterizing
Here in Wasilla, Alaska, they also recommend having an engine block heater installed in the car. Most apartment complexes here have outdoor electrical plugs you can plug into, so you (a) have the engine block heater installed in your engine, and (b) plug in your car every night, especially when the temperatures get very low. Here are our outdoor electric outlet plug-ins: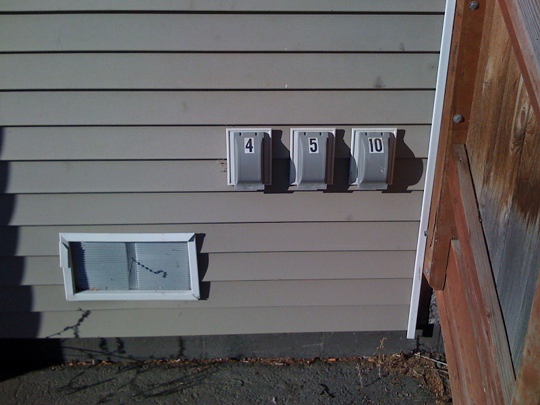 You're typically not supposed to use an engine block heater above 20 degrees Fahrenheit, but I'm told they are very helpful during long cold stretches here, not just by the people at the car shop, but all my neighbors as well.