Day 5: Roslyn, Washington
March 12, 2010
A short 364 mile trip to Roslyn, Washington today. It was a relatively short ride, but there was more bad weather again today.
The worst of it by far was that I had no idea there was tumbleweed in Oregon and Washington, and my car was pelted by huge chunks of tumbleweed that was blown very fast from west to east. That part of the drive felt like some sort of "avoid the tumbleweed" video game, where all the drivers on the road were swerving to avoid being pelted, and to avoid running over the tumbleweed.
Much of the tumbleweed that made it past the drivers was stuck to the guard rails on the right side of the road, pinned there by the vicious wind from the west.
The tumbleweed is also very hard, and it makes quite a crunching sound when you do run it over. I avoided most of it, and ran over maybe five smaller chunks of it, but I saw other cars get hit squarely with full-size tumbleweed chunks, and others run them over.
On the brighter side, when I stopped at a rest area in Oregon, the air smelled and felt very different from anywhere I've been on this trip so far, very beautiful in its own way. Kentucky tends to be very humid, the midwest is what it is, Wyoming's air is crisp and light, but in Oregon, amidst the tall pine trees, the air was cool, aromatic, and had a touch of ocean about it. Very beautiful.
Roslyn and Cle Elum, Washington
As I mentioned yesterday, Roslyn, Washington is the town where they filmed the tv show Northern Exposure, one of my favorite tv shows of all time. There isn't any real lodging in Roslyn, so I'm staying at a small motel here in Cle Elum, about five miles from Roslyn.
I hung out at the Roslyn gift shop (which was Dr. Fleischman's medical office in Northern Exposure) for almost 90 minutes, and talked to a wonderful man there. He and his wife own the gift shop, and I spent a lot of time with them in 2007 as well. If you come here, make sure you stop at the gift shop, ask about the office and how they filmed the show here, and check out the guest book; people come to this small little town from all over the world just because of this tv show.
After that, I went to the Brick, where I enjoyed my first beer of the trip, along with a huge plate of nachos, which I didn't make it through. The wait staff here wasn't very pleasant today -- hopefully just an off day -- but a few other Northern Exposure tourists were nice to talk with.
I'll add more pictures here later, but for now, here's one picture of "The Brick" in Roslyn (again featuring the creepy little figurine some friends gave me back in 2007):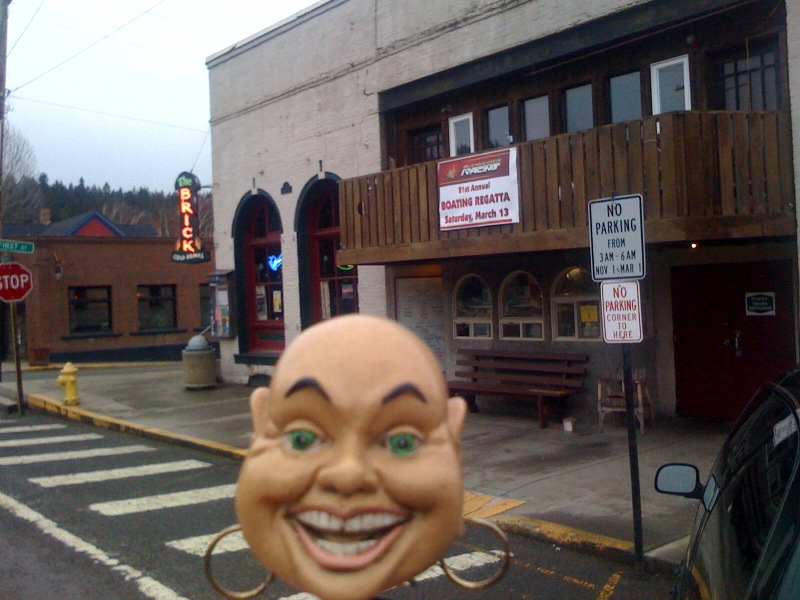 The Brick is a neat bar/pub, but if you watched Northern Exposure, you'll be surprised at some of the differences between the real Brick and the one shown on tv. I'll skip describing those here so you can find out for yourself one day.
If you're a Northern Exposure fan, it is a really unique and terrific feeling to walk on the streets where much of the show was filmed. After three visits to the town now, I still enjoy it.