2011 Iditarod race, current standings, March 13th
March 13, 2011
From the adn.com community website, Iditarod musher John Baker left the Unalakleet checkpoint a little after nine o'clock this morning.
According to the adn.com writer in Unalakleet, "Both Hans Gatt and Sebastian Schnuelle said this morning that they don't think they can catch him." As Mr. Schnuelle also said, "I have tons of horsepower, but I don't have speed. I don't have a team which has a second gear."
2011 Iditarod musher Ramey Smyth is currently in second place, and Hans Gatt is in third place. However, from what I've read, we now seem to be at a point where how much a musher sleeps comes into play. It's hard to tell from that story, but Mr. Smyth looks like he's going to get very little sleep this morning.
(This information comes from this adn.com story.)
2011 Iditarod current standings
The current standings of the 2011 Iditarod -- as of 10am on March 13, 2011 -- now look like this: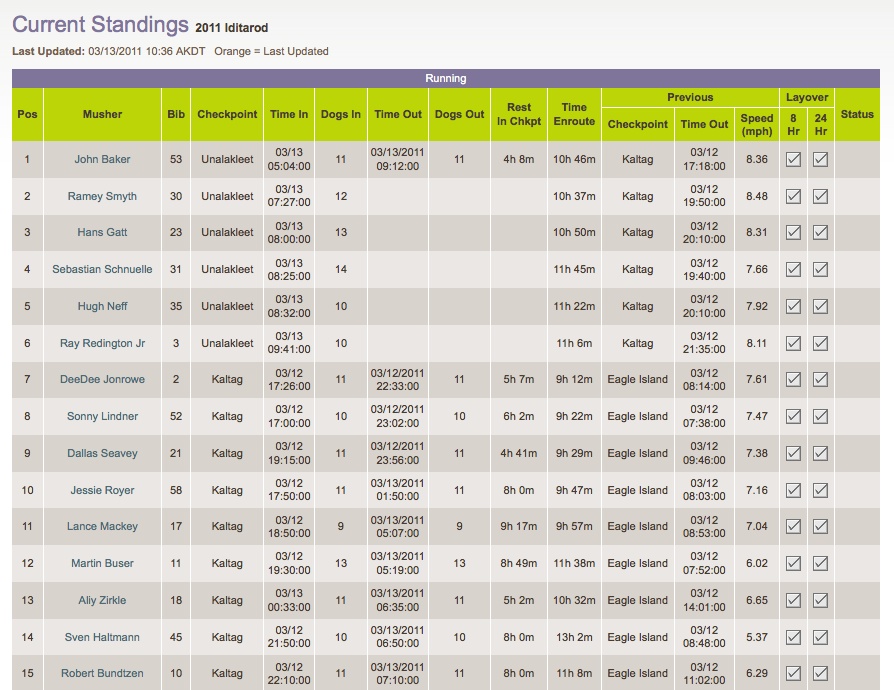 (Image courtesy of the iditarod.com website.)
According to their check-in times at the Unalakleet checkpoint, John Baker seems to be leading Ramey Smyth by two hours and twenty-three minutes.
Most teams running with 10 to 13 dogs
I don't know what to make of it, but most dog teams now seem to be riding with 10 to 13 dogs. From the current leaderboard, only Sebastian Schnuelle is running with as many as 14 dogs, and Lance Mackey is still running with only nine dogs, while others have ten to twelve dogs. I'll try to read up more about whether this is a strategy, or just whether the dogs have gotten sick or worn out, and dropped off at the checkpoints.