2011 Iditarod Standings - Mackey falling back, Seaveys moving up
March 9, 2011
Iditarod Standings, March 8, 2011: Now that my power is back on ... I read on my iPhone this morning that something happened with Lance Mackey, and he is down to using twelve dogs. In the current standings he's fallen back to sixth in the 2011 Iditarod race, and Mitch Seavey (one of my favorites) has moved up to seventh place.
The current Iditarod race leader is Martin Buser, followed by Sebastian Schnuelle. Both have gone through the Nikolai checkpoint. Other racers, including Robert Bundtzen in third, Hugh Neff in fourth, and Ray Redington, Jr. in fifth, have made it to the Nikolai checkpoint. Dallas Seavey, another personal favorite, is currently in 13th place.
Here's the current 2011 Iditarod race standings: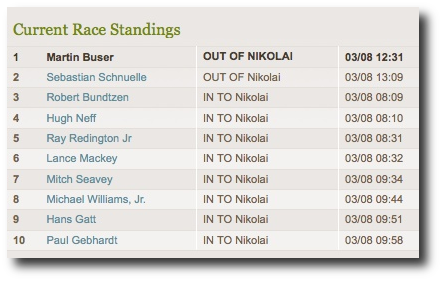 Iditarod racing distance and speed
Looking at my Iditarod checkpoints and distances page, Nikolai is 347 miles from Anchorage, and roughly 298 miles from Willow, meaning that the racers have covered those 298 miles in just a little more than two days. The first Iditarod musher left the starting gate at 2pm Sunday, and it's now 3pm on Tuesday, so they're covering at least 150 miles per day.
Iditarod weather
The weather in Alaska has been warm, a little over thirty degrees here in Wasilla and Palmer, Alaska the last two days. However, the big winds picked up again at 4:15am this morning, and I'll assume the mushers are getting hit by those winds -- up to 50 mph -- as well.
Instant Update
Wow, I can't keep up with the news -- as soon as I posted the image above, new results were in, and the lead mushers have made it to Rohn. Here's the latest leaderboard. The leaderboard says 2:50pm, but it wasn't really updated until about 3:15pm, after I posted the image above: