2011 Iditarod Standings, March 12 - John Baker in the lead
March 12, 2011
2011 Iditarod Current Standings, March 12, 8am - As I wake up this morning and check the current standings, we have a new leader in the 2011 Iditarod race to Nome, Alaska. John Baker of Kotzebue, Alaska is now in the lead.
John Baker is forty-eight years old, a self-employed pilot, raced his first Iditarod race in 1996, and has been in every race since then. Mr. Baker has eleven Top-10 Iditarod finishes.
The Top-15 2011 Iditarod mushers have all now made it through the Eagle Island checkpoint. Here's the way the race looks: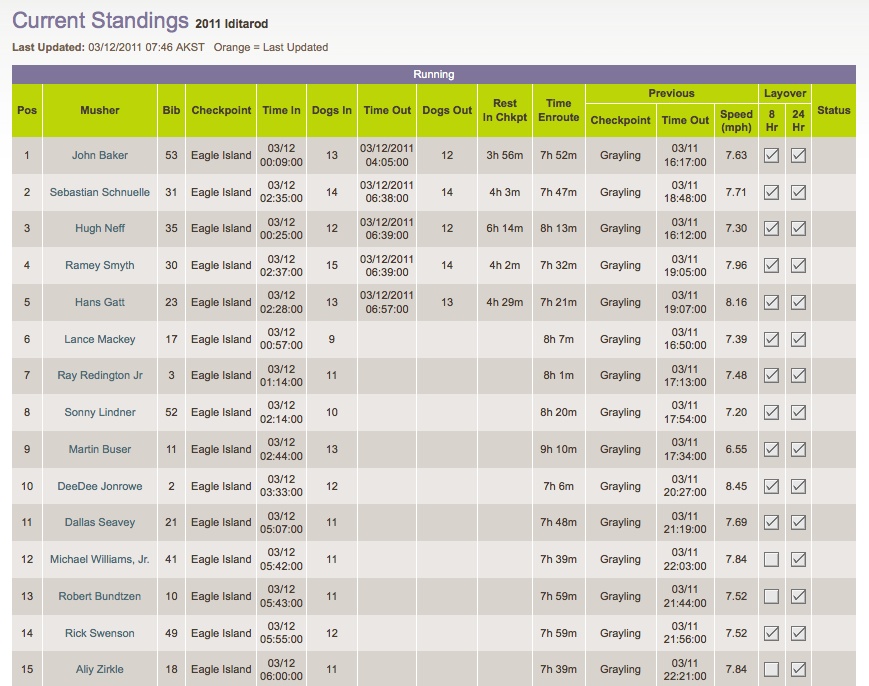 (2011 Iditarod current standings image courtesy of the Official iditarod.com website.)
I don't have anything to add here this morning, other than Mr. Baker is a year older than I am, and that makes me feel pretty humbled. Go get 'em John Baker!