Best restaurant in Seward, Alaska
February 28, 2011
Mmm-mm, I just returned from a short vacation to Seward, Alaska, and I just found my new favorite restaurant in Seward. I was turned on to the restaurant by several of the locals that I've chatted up during my last several vacations to Seward, and I'm here to tell you, they were right.
Some of the locals refer to the restaurant as "The Train Wreck", but its real name is the Smoke Shack, and it really does offer the best food in Seward, Alaska. It's actually a very small restaurant built inside one train car, and the food is just outstanding. They're only open from 7am to 3pm, so you'll want to eat there for breakfast or lunch.
Smoke Shack breakfast menu
I didn't eat there for breakfast, but all the locals swear by it. The only reason I didn't eat there for breakfast is because I ate two of their sandwiches the day before, and I just couldn't eat any more by breakfast time. The Smoke Shack breakfast menu includes several specialties:
Frittata (a cast iron skillet omelet with Chorizo or Hollandaise sauce and choice of meat or veggie style)
Eggs Benedict
Chicken fried steak and eggs
I could list more items, but after that the Frittata, what else do you need to know? (One of the locals told me I had to try the Eggs Benedict, but I really couldn't eat any more the following morning.) Okay, here's a photo of their breakfast menu: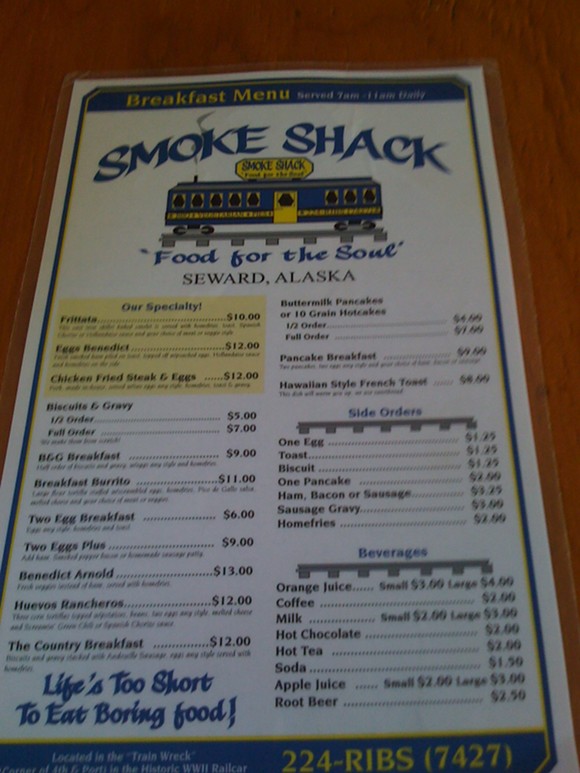 The Smoke Shack lunch menu
The Smoke Shack lunch menu blew me away. I got their pulled pork sandwich, which was served with cole slaw, beans, and a choice of three BBQ sauces, which were all excellent. In fact, the sandwich was so good I got another one to go, which made for a wonderful dinner. Sadly I didn't even see the Reuben sandwich listed, which another local later told me is to die for.
Here's a quick look at the Smoke Shack lunch menu:
Baby back ribs
Texas or Korean style BBQ ribs
Smoked green chili burrito
A collection of "smoked burgers"
A collection of BBQ chicken and pork sandwiches
Soups and salads, including a Gumbo
A few vegetarian meals, including a tofu burger, Portabella mushroom sandwich, and hummus lentil wrap.
Oh, and at the Smoke Shack in Seward, Alaska they offer large homemade desserts as well. A couple splitting a dessert next to me was making so many "mmm" and "yum" noises while eating their dessert I had to ask them about it, and we ended up having a fun conversation with our waitress about all their food and desserts.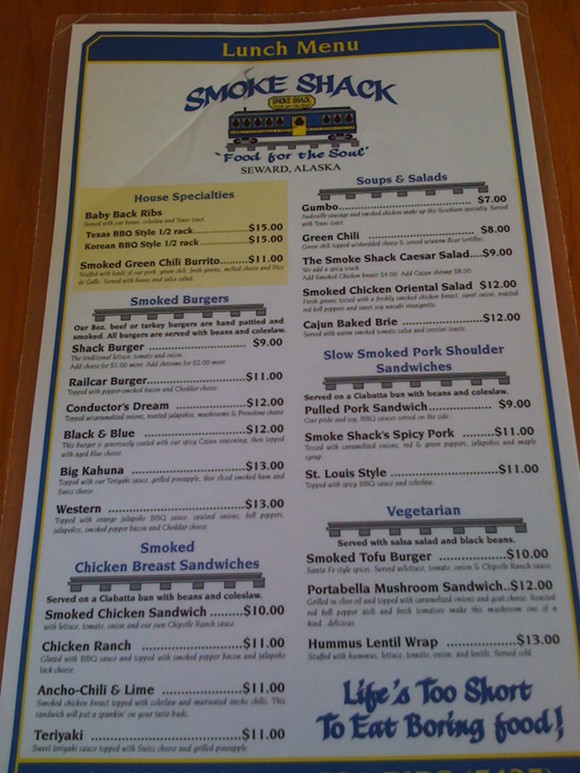 Smoke Shack restaurant in Seward, Alaska
If there's any downside to the Smoke Shack, it's that it's a very small restaurant, with only six or eight tables. But that shouldn't be a problem in the summer, as they have ample seating outside, and that's where you want to be anyway.
The Smoke Shack is located in the Seward's harbor area. In fact, if you know the town well enough, you can turn left on Port Road when you come into town. Just drive a block or two until you come up to the blue and yellow train cars, and get ready to enjoy a wonderful meal -- the best food in Seward, Alaska.