Earthquake near Willow, Talkeetna, and Wasilla
July 9, 2010
After enjoying a beautiful day out on Hatcher Pass, I started to look around the town of Willow, Alaska, but decided I was tired, and headed home to take a nap. My short nap was quickly interrupted by a 5.0 earthquake, centered about 40 miles WNW of Wasilla.
Here's an image from the U.S.G.S. website, showing the location and magnitude of the earthquake: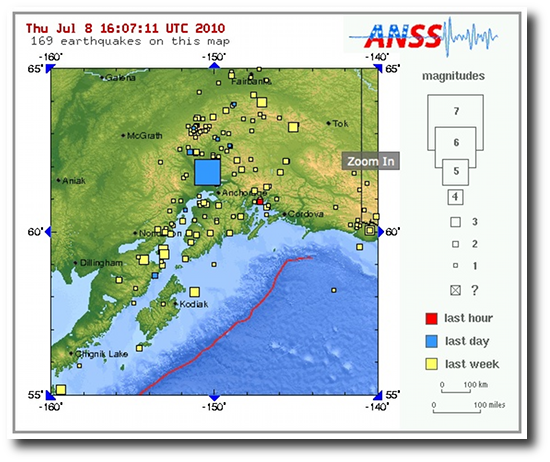 Here's a link to the Willow, Alaska earthquake details on the U.S.G.S. website.
I can safely confirm that if there's a 5.0 magnitude anywhere near you, you're probably going to feel it. My apartment was shaking, swaying, and making the creaking noises you don't want to hear any time you're inside a building. But, by the time I woke up, figured out what was happening, and headed for the front door, it was over.