My favorite restaurant in Talkeetna, Alaska (2010)
June 28, 2010
Talkeetna, Alaska is known for several things, including some really good restaurants. Over the past few years my favorite restaurant in Talkeetna was the Wildflower Cafe, and also a bistro place whose name I can't remember at the moment.
But as of 2010 I have a new favorite restaurant in Talkeetna -- the Flying Squirrel Cafe. I saw the restaurant being built in previous visits to Talkeetna, and on a visit there last week I finally stopped in, and all I can say is wow, that's some great food. So far I've just sampled a few baked goods, but I was able to look at several other dishes, and smell the aroma, and it was an excellent experience.
Nestled in the woods
On top of the great food, the Flying Squirrel has one other great advantage -- it's located three miles from downtown Talkeetna, and gently nestled in the woods.
For all you travelers that get tired of mingling with other travelers in an area like downtown Talkeetna, which can feel a bit like a circus, the Flying Squirrel setting is the perfect, relaxing antidote. Nestled in the woods, you can sit indoors or outdoors, and enjoy the peace and quiet, and scenery, which is why you're in Alaska after all, right?
I'll write more about the Flying Squirrel after subsequent visits -- I'm going back on one of their upcoming gourmet pizza nights -- but in the meantime, here's a photo of the Flying Squirrel Cafe: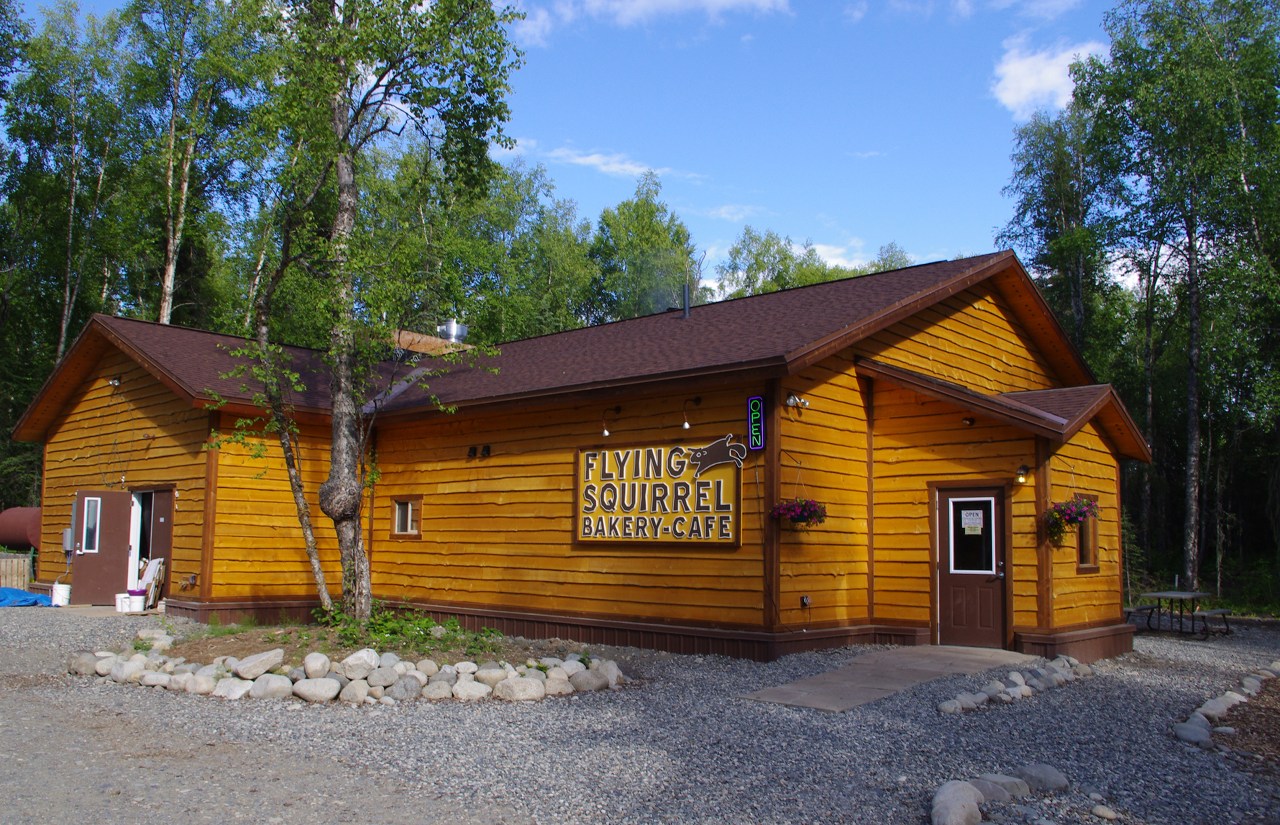 (You can click through that image to see a larger image, if you'd like.)
Another Talkeetna, Alaska squirrel
If you know me, you know I can't possibly mention "squirrel" and "Talkeetna" without mentioning my own adventures with a squirrel while I lived there. I've published a children's story about living with a squirrel in Talkeetna, Alaska, based on my actual experiences of living in a cabin in Talkeetna in 2007. (The squirrel is real, and most of the stories are, also. :)