Contest to win a copy of One Man's Wilderness
July 30, 2010
Background
This website, OneMansAlaska.com, was named in honor of a famous book about a man who lived in Alaska. That book is named One Man's Wilderness
, written by Richard Proenneke.
Mr. Proenneke moved to Alaska in 1950 (before Alaska was a state), initially working on Kodiak Island. In 1968 Mr. Proenneke "retired", and moved to an area known as Twin Lakes, where he built a cabin in the wilderness with his own hands, ran into the occasional bear, took a lot of video footage, and wrote the journal that eventually become One Man's Wilderness. He lived in that cabin for nearly thirty years.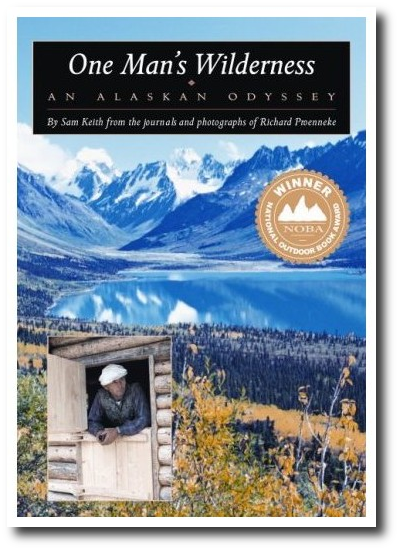 The contest
To honor this wonderful book, and the independent spirit of Alaska the book embodies, I've decided to hold a contest once a year to give away free copies of the book. To enter the contest, and a chance to win one of three free paperback copies of One Man's Wilderness, all you have to do is sign up to receive my newsletter, using the link below. My newsletter will be sent out once every month or two, but never more than once a month.
To keep things official, here are the terms, conditions, and privacy statement related to this contest:
OneMansAlaska.com contest privacy statement
OneMansAlaska.com will not use your email address for any purposes other than to send out our newsletter, or let you know that you have won the contest. Our newsletter will be sent out not more than once per month, and will contain links to our most interesting and popular new articles.
"One Man's Wilderness" contest terms and conditions
Here are our simple "One Man's Wilderness" contest terms and conditions:
Sign up to receive our monthly newsletter any time between now and August 31, 2010.
Sign up only once per email address that you have.
The drawing to receive the three free e-Books will be held on approximately September 5, 2010. You must still be on our newsletter mailing list at that time to be eligible to win.
Three email addresses will be drawn at random at that time. Contest winners will be notified that they have won. Books will be shipped from Amazon.com, so must supply your name and physical mailing address at that time. Your address will not be used for any purpose other than to send you a copy of this book.
If you remain registered to receive our newsletter after this contest is over, you'll be automatically eligible to win future contests.
Enter the contest!
To register to receive our newsletter and enroll in our contest, just follow this link:


Enter the contest!