Mountains over Wasilla
September 27, 2008
Alaska is so beautiful that even a simple car ride from Anchorage to Wasilla results in beautiful scenery that you won't find in most other places.
Here is a sequence of two pictures taken from inside my car as I approach Wasilla from the south. The first picture shows a mountain range towering over the road, with an airplane crossing the sky.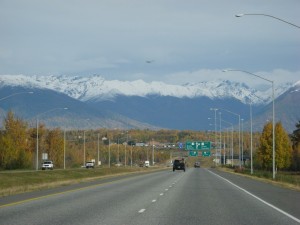 The second picture shows a sign you'll see as you approach Wasilla from the south, giving you the choice of Wasilla and Fairbanks on the left, and Palmer and Glenallen on the right: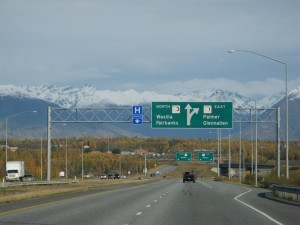 On today's drive I wasn't really going to Wasilla, I was going past Wasilla, farther north up to Talkeetna.